Thank you to the people Port Perry and all the churches involved in this important work of helping Syrian refugees create a new life in Canada. The Port Perry Refugee Support Group has raised over $115,000 through the generosity of individuals and churches, and the success of our fundraising activities. One family has arrived already in Port Perry, and we are waiting for three more! 
The five churches involved in this initiative are: Emmanuel Community Church, Hope Church, Port Perry United Church, Victory Christian Centre and New Song Church. 
The Port Perry Refugee Support Group is an inter-church, inter-community group, drawing on a wide spectrum of Port Perry residents whose hearts are moved by the desperate plight of Syrian refugees. And you are welcome to join us!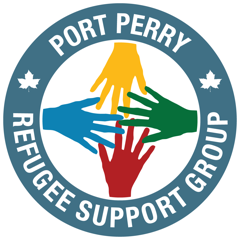 The following action groups are open for members: Welcome and Settlement, Fundraising, Housing.
Housing (Andy Hiemstra andyhiemstra@hotmail.com)
Welcome and Settlement (Kathy Payne-Mercer mercer@powergate.ca Sue Pelyk pelyk.sue@gmail.com)
Fundraising (Mike Lorish PPRefugeeSupport@powergate.ca)
Download our Frequently Asked Questions of Concern document here.
"This is an inter-church, community based group working together to respond in a practical way to the Syrian refugee crisis. Port Perry has so much to offer, why wouldn't we do this?" — Brent Stiller, New Song Church
"When we see another human being living in fear and misery, whether around the corner or around the world, we cannot help but act… as churches, as groups, as individuals. We know that this big-hearted community will respond." — Elaine Hall and Don Willmer, Port Perry United Church
"Emmanuel Community Church has a longstanding desire to bless our local community and the world. We currently have partners in several countries including El Salvador, Nigeria, Ukraine and Mongolia. Getting involved in the Scugog refugee initiative aligns with our vision to make the world a better place to live. God calls us to love our neighbour and through this effort we hope to make several new neighbours." — Fred Penney, Emmanuel Community Church
You can also call (905) 982-2064 for more information. All are welcome to join this movement of community members and local churches to sponsor refugee families to come to Port Perry.
If you are on Facebook, join the Port Perry Refugee Support Group Facebook page here, Linkedin group here. All important announcements and developments will be posted on this page and sent out via email.
Who is a Refugee? No one is a refugee by choice and anyone could become a refugee. At the end of 2011 there were 42.5 million forcibly displaced people including 15.2 million refugees. (www.unhcr.org)
Helpful Links for Understanding the Crisis and the Process of Refugee Sponsorship
For a comprehensive guide to Syrian culture and settlement helps, click here. 
Community Development Council Durham is Durham Region's only settlement agency, click here. 
For a guidebook provided by the Refugee Sponsorship Training Programme, which includes detailed information about how refugees are chosen and screened, click here. 
For welcome and settlement information for Durham region, click here. 
For a helpful video on the crisis and how it developed, click here. 
For information on how the UNHCR Refugee Resettlement program works, click here. 
For Frequently Asked Questions about becoming a sponsor of Syrian refugees, click here. 
For more information on the Blended Visa Office Referred Program, click here. 
Canadian Government Guide to the Private Sponsorship of Refugees, click here. 
Read a UNHCR timeline of the Syrian Refugee Crisis here. 
A clearly explained overview of the crisis by World Vision, here.
For frequent questions asked about Canada's role in welcoming and resettling Syrian refugees, click here. 
An overview of the Canadian Church's role in the resettling of refugees, click here. (Canadian Council for Refugees)